The music has been flowing all summer in Dingle. I love playing in St James' Church, a small perfect space for music, the crows calling outside in the dusk only slightly ominously, two poles in the middle of the room which sadly have never been exotically danced around, so far as I know, and usually a good audience. This week I'm looking forward to some solo sets so I'll bring more instruments – the National Steel to play a slow air on slide guitar, the Tiple with its almost medieval flavour, the Elephant guitar and twelve-string and ukulele. I've written a new uke piece this week that reminds me of perhaps the theme music of an imaginary Luchino Visconti movie, if Visconti had a soundtrack featuring ukulele, which I will be the first to admit he didn't and wouldn't, but still it reminds me of him. I'd love to see a nice melodramatic Visconti season in the Dingle Cinema,  the best cinema in the world. I'm looking forward to playing with some of the other performers too this week in the church: Laurence Courtney's big voice is one the local treasures and he's not heard often enough on stage. Eilis Ní Chinneide is singing better than ever, and Aoife and Deirdre Granville are really good musicians, and all of them fine people for the crack. As in fun. There have been some wild nights in the Shebeen of course with Mr Begley and family, and when you head for Baile na mPuic out across the brow of the peninsula and see the Blasket Islands in the golden dying light of the day, well there are no words for it. Here's a picture of late summer here with the fuschia and montbresia blazing away: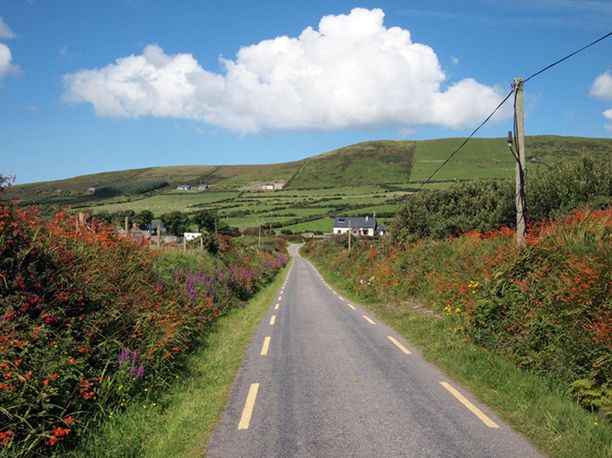 I had a memorable gig too with Béal Tuinne in Gougane Barra this summer where we stayed up quite late, and the quartet with Shaun, Rita and Eoin at the Clifden Arts Festival.
But the highlight of the season was a visit to Romania to play Shaun Davey's "Merry Cemetery of Sapanta" suite, and this time in the Merry Cemetery itself. The journey started with an overnight train from Bucharest to the town of Sighetu. Joining us on the train was a band called Mambo Siria from Southern Romania. Around midnight they took off their shirts and started to play. They're a terrific band and really a brass band in a train carriage is the most fun your ears can have while you're on a train lurching from side to side drinking alcoholic beverages and trying to take a picture of them. Have a look at them on youtube too. It's worth it, trust me.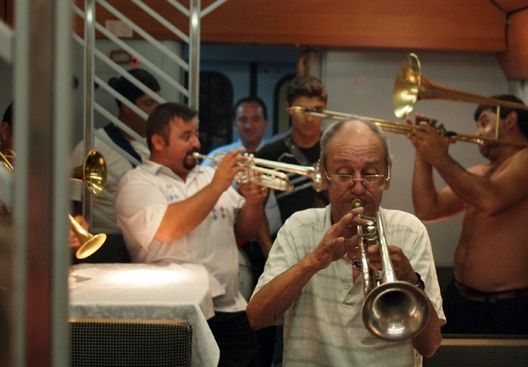 It was hot in Sighetu, near the Ukraine border, and we knuckled down to rehearsal with the orchestra and choir, and played in the cemetery the next day. Here's a picture of just a couple of the "merry" graves. Notice there's a poem about each person with their image, and some of these are set into song by Shaun. Notice too that it's a modern cemetery, so you'll see images of children who have been killed by cars as well as people operating machinery.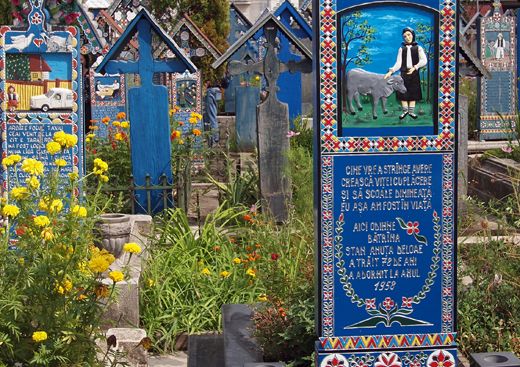 When we played the songs, each one set to a poem about the person who is buried there, I wondered why all cemeteries are not like this, and why we don't play music all the time to celebrate people who are gone, music all about those people. It feels really good to do it.
A view from the stage at the concert that night: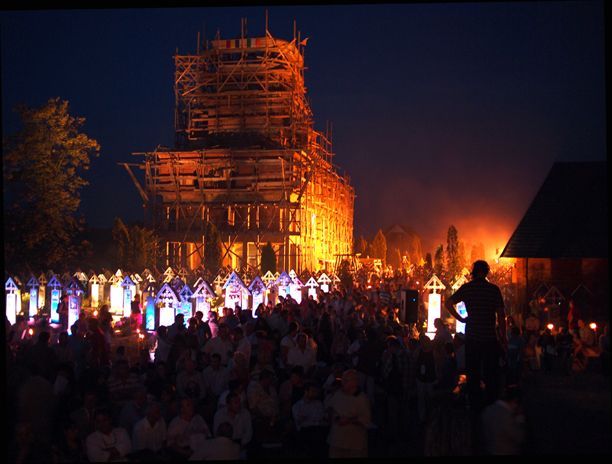 A highlight too was a visit to the communist museum, the only one in the country, which was a poitical prison in the bad old days, one of many such prisons. Interesting to see photos there of the Ceausescus having a great old time with Richard Nixon on a state visit, and a not uncomfortable looking Queen Elizabeth and Prince Philip enjoying their visit to the palace. That's who these people really are, you know, no matter how cuddly they may appear to be in cute movies. You really don't have to sup with murderers and tyrants if you don't want to. If we achieved nothing else in Ireland, at least we got rid of that royalty nonsense. The prison yard: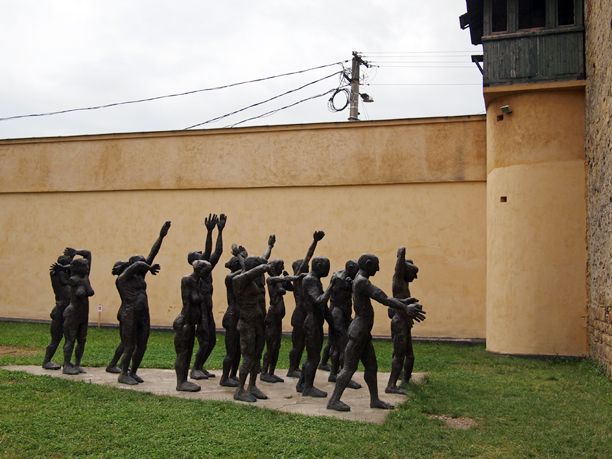 Visiting Romania was a privilege and great fun again this year and no small thanks to "shadow", our interpreter and minder Ioana Nistorescu.
We'll be performing the Merry Cemetery of Sapanta suite and other music in St Patrick's Cathedral in Dublin on the 27th November, along with the novice priests' choir from Sibiu (they're not allowed to become priests in the Romanian Orthodox Church until they're married), and the RTE Concert Orchestra conducted by the redoubtable David Brophy, with Rita Connolly, Noel Eccles  and Liam O'Floinn. We hope Shadow will come along too with the Romanian contingent to look after us all.